If you're wondering why I haven't posted anything about Nassau it's because I'm a good Southern woman and was taught that "if you don't have anything nice to say come sit by me don't say anything at all".  It's been rough, y'all.
Don't get me wrong, I'm sure Nassau has it's charms beyond the gritty harbor, throngs of cruise ship and Atlantis patrons who packed way too much perfume and not enough good attitudes.  But, it alluded us.  Perhaps if we spent more time immersing ourselves with locals off the beaten path (generally a safe bet for falling in love with a new place), we'd be the ones saying "give it a chance", but unfortunately, it wasn't to be.
While we planned on just stopping in Nassau for a night or two, we've ended up spending THREE weeks in the area.  Well, that just goes to show us for making plans while living on a boat . . .
For the first week, we were "snowed in".   That is to say, the wind was so high that we opted to stay a week in a marina which isn't our style, to put it mildly (it's expensive and crowded).  We much prefer to be anchored out in a secluded cove.  But, we made the best of it and took advantage of being on the dock to get a TON of boat chores done:  we topped off water, fuel, fresh veggies, took both sails down to do some minor repairs, put new grip tape on the swim steps, scrubbed the boat free of all rust spots, sewed new curtains and generally got Mother Jones in "ship shape".
One afternoon, we even got off the dock!
Exploring Nassau one afternoon we ventured downtown and wandered the grounds of the old hotel Graycliff– which I like to call "Grey Skull", heh.  It's a beautiful old complex with a couple of simple gardens tucked away in between some amazing pools (I asked, "What's beyond that pool?" to which the staff replied "another pool" – of course).
As we were exploring the grounds, we happened to overhear a new arrival loudly complaining to the staff and anyone who would listen about "What a dump" Gray Cliff is – which it's definitely not.  This incident got us to chuckling thinking about how this woman would fair on the boat: what with salt water baths, curtain doors and doing your own dishes.  It's certainly not a life for everyone, but luckily, it suits us just great!
We wandered downtown that afternoon and quickly found the cruise ship crowd overwhelming.  Don't get me wrong – I love a good cruise but there's something about a crowd of 3,000 folks that I don't dig so much anymore.  So, we quickly stepped down a side street to a little hole in the wall near the police station for a quick bite before returning back to the boat.
A couple of days later we were happy to be leaving Nassau for a secluded little spot just an easy hour and a half away: Rose Island.  It turns out our new found friends, also on a Gemini, Fran and Wendy were also anchored out and we enjoyed a quiet weekend before  heading back to Nassau to pick up Damon's brother, Will.
Then, we headed back to the hook in Nassau* to pick up Will and his stash of lots of fun provisions from the States (thanks, Mom, Beth and Tabatha!).  We weren't able to finish the final piece of sail repair on board so I lugged it up to Phillips Sailmaker (where we were a week ago . . .) and $80 and a few hours later, they finally fixed the job.
Just before heading out of Nassau, we made on final, fun, venture out: to Atlantis.  Boy oh boy.  What.a.place.  Given that you can see it from 20 miles out, it's not surprising that it's absolutely GIGANTIC and caters to those who can pay GIGANTIC bucks to be there.  But, arriving on our little dinghy into the marina was a whole 'nother thing.
As we passed 100ft+ megayachts with boats they launch that are twice the size of our 10 foot dinghy.  We felt a little like the classic scene from Dumb & Dumber, riding into Aspen doubled up on our scooter . . .
Given that it had rained in Nassau that day and it was still a bit overcast, we had the outdoor attractions almost to ourselves which was a.ma.zing.  I loved the aquariums filled with all kinds of fish, sharks, rays, sea turtles and coral.  There were several aquariums where you could literally walk, or tube, through.  Check this out: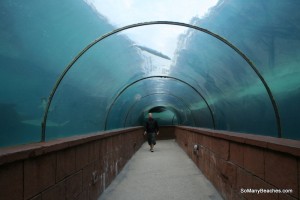 While you can totally visit without spending a dime, before we left, we did drop a few bucks in the slots at the Casino and D came out the *big* winner – ha!
We're finally out of Nassau now, having picked up our sail, some final fruits and veggies and, of course, Will.  We're headed to the Exumas tomorrow – yay! – and I'm looking forward to spending my birthday in the middle of nowhere . . .
Best,
L, D & Mr. K (and Will!)
*Anchoring in Nassau Harbor, at our last spot, proved impossible for us upon our return.  We literally tried SIX different spots over TWO long hours in front of the Green Parrot before giving up and heading to the east end of the island.  It's totally true what they say about anchoring out here: it's sand over rock and impossible to stick (I think other folks just laid their anchor and chain out and hope for the best – no thank you!).  Luckily, we found one patch on the east end and are just shallow enough to squeeze in.